Multimodal Transportation
The Port of Victoria offers access to a rare combination of transportation advantages. Businesses can ship and receive products and supplies via waterway, rail, highway and air transportation options.
Water
The Victoria Barge Canal is a 35-mile long waterway that connects the Port of Victoria to the Gulf Intracoastal Waterway (GIWW). With two general cargo docks totaling 200,000 sqft, three liquid docks, a channel depth of 12′ and a width of 125′, the Port has the capacity for 60 barges. The primary distribution advantage for the Port is its link with the GIWW and the major shipping lines that service ports on the Texas coast. The GIWW not only links the Gulf Coast from Brownsville, Texas, to Apalachee Bay, Florida but also the Mississippi River, Ohio River and their connecting canals and river basins. This links Victoria to the Great Lakes and major cities on the 26,000 mile Inland Waterway system.
Highway
The Port is connected by several four-lane divided highways to all major arteries in South Texas and its 15 million+ customers. The current US I-59, which is the future planned NAFTA I-69, along with US I-77, US I-87, and easy access to I-10, I-35 and I-37, provide options for heavy freight traffic from Victoria to neighboring Texas cities and all parts of the United States, Mexico and Canada. There are 19 trucking companies in the area, offering motor freight, heavy hauling and liquid or dry bulk carriers.
Rail
The Port of Victoria Industrial Park is serviced by two major rail providers, Union Pacific and BNSF, with 19,050 ft or 3.6 miles of total rail track in place with an additional 12,032 ft or 2.3 miles under construction. In February 2021, the Victoria County Navigation District secured a $6 million CARES Act Grant through the Economic Development Administration for a Rail Expansion Project. This grant, which requires a 50%, or $3 million, match from the Port, will help fund the construction of a 1.9-mile rail loop and 2,000-foot ladder track at the Port's North Industrial Site. The Rail Expansion Project will connect three tracts of available land, totaling 115 acres and provide current tenants with improved rail access. It will also allow the Port to accommodate the delivery of unit trains with 100+ railcars and provide additional capacity at the Port for railcar storage. The expected completion is by the end of 2021.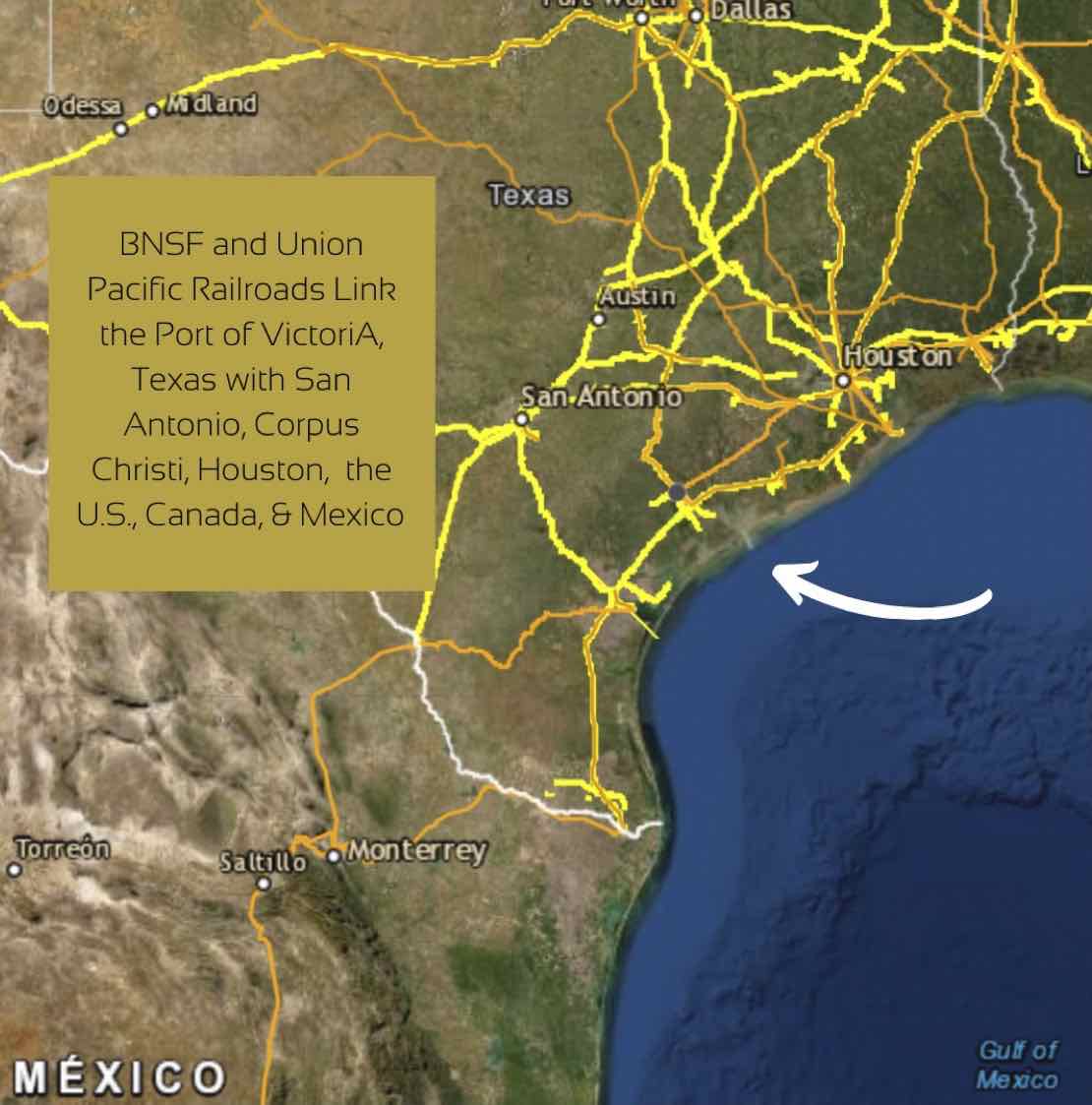 Air
The Victoria Regional Airport is located 13 miles from the Port of Victoria in the City of Victoria and offers connections from Victoria to Houston's Bush Intercontinental Airport via Skywest Airlines in partnership with United Airlines. Existing aviation services include an on-site fire department, state-of-the-art runway signage and lighting, fuel service and AvGas, rental cars, aircraft storage Automated Weather and an on-site restaurant.