Victoria Barge Canal has long history" – Victoria Advocate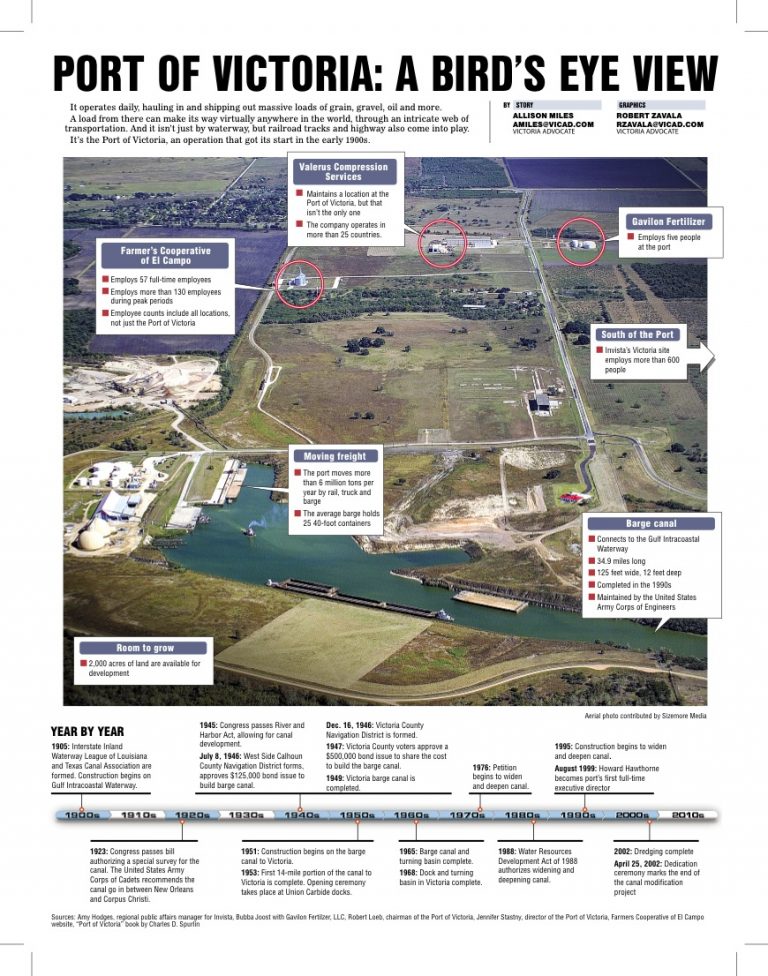 It operates daily, hauling in and shipping out massive loads of grain, gravel, oil and more.
A load from there can make its way virtually anywhere in the world, through an intricate web of transportation. And it isn't just by waterway – railroad lines and highway also come into play.
It's the Port of Victoria, a place and operation that got its start in the early 1900s. And here's a closer look at it:
The barge canal is 125 feet wide and 12 feet deep. Its current dimensions were completed in the 1990s.
The port connects to the Gulf Intracoastal Waterway, and the canal to Victoria is 34.9 miles long.
The waterway is maintained by the United States Army Corps of Engineers.
Two thousand acres of land are available for development at the port.
The port moves more than 6 million tons per year.
The average barge holds 25 40-foot containers.
Five commissioners make up the Victoria County Navigation District. That number was upped from three in 2007.
Gavilon Fertilizer employs five people at the port.
Invista's Victoria site employs more than 600 people.
The port employs three people.
The Farmers Cooperative of El Campo employs 57 full-time employees and more than 130 employees during peak periods. That includes all locations, not just that at the Port of Victoria.
Valerus Compression Services maintains a location at the Port of Victoria, but that isn't the only one in the world. The company operates in more than 25 countries.
[Article] Sources: Amy Hodges, regional public affairs manager for Invista, Bubba Joost with Gavilon Fertilzer, LLC, Robert Loeb, chairman of the Port of Victoria, Jennifer Stastny, director of the Port of Victoria, Farmers Cooperative of El Campo website, "Port of Victoria" book by Charles D. Spurlin
Source: VictoriaAdvocate.com